Friends for Asia offers comprehensive two-week volunteer projects/tour packages in Chiang Mai, Thailand during summer 2015. There are three different start dates, and a variety of volunteer opportunities as well as excursions and cultural experiences. Don't miss this chance to make your summer unforgettable.
Volunteer and Explore Chiang Mai, Thailand
It's easy to understand why people love Thailand's Rose of the North. Seven centuries of history have produced more than 200 active Buddhist temples around Chiang Mai, with 36 inside the moated walls of the old city. Monks in saffron robes still make the morning alms round, and joss sticks burn at the base of ancient monuments and miniature spirit houses throughout the city.
In 2013, Travel + Leisure magazine polled readers to find out which cities around the world are their favorite, and Chiang Mai came in 10th. Around the same time, Conde Nast Traveler conducted a similar poll – only this time, they were looking for international cities with the friendliest vibes. Chiang Mai weighed in at number 11.
This is the backdrop of a holiday in Chiang Mai, but it's only the beginning. Travelers can ride elephants through the mountainous jungles, enroll in Thai boxing or massage classes, escape to meditation retreats in the countryside, and dine on everything from savory curries to gourmet burgers. And when the prospect of another planned activity sounds exhausting, nothing beats relaxing at a leafy cafe, armed with a latte and a book.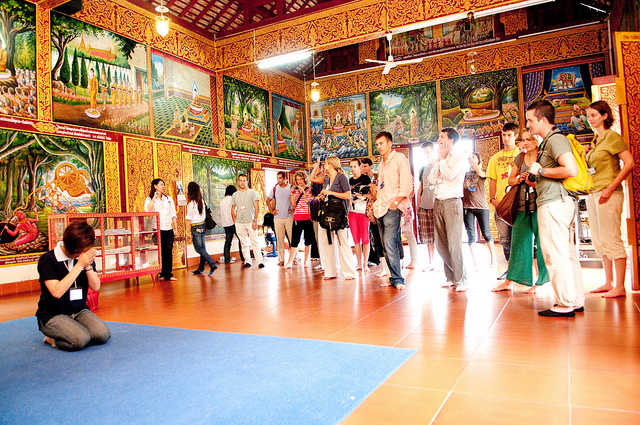 Chiang Mai Volunteer Experience / Inclusive 2 Week Summer Volunteer and Tour Package
At the core of your volunteer experience are two local projects. You'll be working with local orphanages and schools, helping to care for and play games with the children as well as participate in any on-site projects that are underway at the time. There also may be opportunities to plan activities or English lessons and to assist with homework.
Friends for Asia fully caters the summer projects in Chiang Mai. We pick up volunteers from the airport, provide accommodation and supply three tasty meals per day. We also offer plenty of extras, including:
Informational orientation session that covers cultural tips, a language lesson and a city tour
Dinner boat cruise on the Ping River
Cultural show that includes a traditional Northern Thai feast
Trip to an open-air market to assemble a traditional Thai meal
Overnight trek through the mountains
Day-long workshop with elephants at a camp in the countryside
High-octane zip-lining adventure through the jungle canopy
Behind the Scenes in Chiang Mai
Tourists love Chiang Mai for good reason, but most don't begin to scratch the surface of this city's potential. At Friends for Asia, we help volunteers get involved with the local community and engage Thai people in the places where they live and work.
Volunteers enjoy behind-the-scenes access to Chiang Mai. When they return home, they can't wait to tell their stories to friends and family. And best of all, they have the satisfaction of knowing that their journey had a positive impact on the lives of others.
Summer 2015 Inclusive Volunteer / Tour Dates & Fees
Inclusive Package Volunteer/Tour Dates
Group 1: June 13-26, 2015
Group 2: June 27-July 10, 2015
Group 3: July 11-24, 2015
Inclusive Package Volunteer/Tour Fees
$1,599 USD per participant
Project Fees Include
All transportation (airport pick up and drop off, transport to/from all project spots and activities, visit to seek any necessary medical attention)
All accommodation (from arrival to departure date – air conditioned, shared rooms, with built in bathroom, hot water shower, western style toilet in/near the city center of Chiang Mai)
Please note that if at the orphanage, volunteers will stay at the orphanage accommodation.
All meals, and drinking water (Breakfast, lunch and dinner each day, including unlimited drinking water). This includes:
Visit to open air dinner market
One dinner at western style restaurant
Dinner Boat Cruise
Farewell Dinner at lovely Thai restaurant
Thai Cultural Show and Dinner
All materials needed at project sites
On the ground staff available and with group 24 hours/day
24 Hour Emergency Support
Project Fees Do Not Include
Souvenirs
Alcoholic Beverages
Any additional activities planned by group members (not staff).
Any medical costs
Summer Volunteer/Tour Package in Thailand – 2015
Saturday (DAY 1) – Arrive into Chiang Mai between the hours of 8am and 8pm.
Sunday (DAY 2) – One day orientation, covering Project Details, Do's and Don'ts, Thai language lesson, lunch, half day city tour, Cultural Show and Dinner
Monday (DAY 3) – Volunteer Day 1 – Volunteering at an Orphanage or School
Tuesday (DAY 4) – Volunteer Day 2 – Volunteering at an Orphanage or School
Wednesday (DAY 5) – Volunteer Day 3 – Volunteering at an Orphanage or School
Thursday (DAY 6) – Cooking Course, and Doi Suthep (Temple on the Mountain)
Friday (DAY 7) – Elephant Camp Day – Elephant Riding, Elephant Bathing and More!
Saturday and Sunday (DAYS 8 & 9) – 2 day/1 night Jungle Trek
Monday (DAY 10) – Volunteer Day 4 – Volunteering at an Orphanage or School
Tuesday (DAY 11) – Volunteer Day 5 – Volunteering at an Orphanage or School
Wednesday (DAY 12) – Volunteer Day 6 – Volunteering at an Orphanage or School
Thursday (DAY 13) – Zip Lining Day and Farewell Dinner
Friday (DAY 14) – Departure Day
Individual Volunteer Projects – Summer 2015
For some volunteers, these dates might not work, or they may prefer more flexible schedule or to focus on specific volunteer projects. No worries.
Our standard individual volunteer projects are flexible with start dates twice per month throughout the summer, and include orientation, accommodation, and support.
Individual volunteering is available in Bali, Nepal, Thailand and Vietnam. Individual projects and internships are two-week minimum, and can be extended for any number of weeks. Many volunteers and interns choose to mix and match and try two or more options while abroad.
Additional Information about our 2015 Volunteer Summer Package
Please visit our special page on our online booking and info guide for additional information about our 2015 Volunteer Summer Packages.
Individual Volunteer Projects and Internships