Why Volunteer in Thailand?
Thailand's tourist appeal is no secret, but there's an important element missing from the average visitor's itinerary – meaningful human contact. Transform your next Far-East adventure into a meaningful, cross-cultural experience by volunteering with Friends for Asia in Thailand.
The ancient capitals, forested mountains and dynamic festivals of Northern Thailand are captivating. Chiang Mai is our base for volunteering in Northern Thailand. Tourists venture for the chance to explore Lanna temples, enroll in cooking or massage courses and trek into the mountains to visit remote hill tribe villages. But our volunteers see a side of Thailand that the average visitor misses altogether. Better yet, our volunteers enjoy the satisfaction of changing lives in small but significant ways via their Thailand volunteer project.
By joining the volunteer Thailand ranks with Friends for Asia, you may find yourself taking lunch with a Buddhist monk in a Chiang Mai temple or bathing an elephant in a rustic river. Wherever your project takes you, you'll be meeting needs and making connections through your volunteer experience.
Our volunteers here in Thailand are involved in a dynamic range of volunteer projects, from building homes for single mothers in crisis to working with children afflicted with HIV. In between are volunteer projects in orphanages, at private hospitals and on elephant camps. In every case, Friends for Asia Thailand Volunteers are going beyond the routine holiday and traveling with a difference.
Why Volunteer with Friends for Asia
Friends for Asia has placed over 1,000 applicants in short- and long-term volunteer projects in Thailand. We're a well-networked volunteer organization without any government or religious affiliations, and we're wholly focused on helping you help others. There are five things that make us different:
We are the in-country coordinators of the volunteer projects and internships.
We provide extensive information, orientation and support in-country.
Our Thai staff are experts in what we do, most have advanced training and degrees and extensive experience.
Our projects are organized and ongoing, and we focus on ensuring that the volunteer and internship experience is positive.
Our volunteers and interns get involved and make a difference.
A Day in the Life of Volunteers in our Projects
Please take a moment to browse our Thailand volunteer projects and internships. Chances are, we have a placement that suits your skill set:
Volunteer Thailand Projects
Friends for Asia offers many different beneficial volunteer projects in the vibrant northern Thailand city of Chiang Mai.
Comprehensive Volunteer + Tour Package – Summer 2014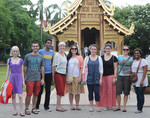 Comprehensive Volunteer + Tour Package – Chiang Mai, Thailand
Friends for Asia offers comprehensive two-week volunteer projects/tour packages in Chiang Mai, Thailand during summer 2014. There are three different start dates, and a variety of volunteer opportunities as well as excursions and cultural experiences. Don't miss this chance to make your summer unforgettable.
Rural Schools Volunteer Project
Rural Schools Volunteer Project

The Friends for Asia rural schools project offers a candid view of daily life in Thailand. Ideal candidates will be keen on getting an inside perspective on a side of the kingdom that tourists and volunteers in bigger cities rarely encounter. In the countryside surrounding Chiang Mai, government schools have little chance of attracting international teachers.
Orphanage Volunteer Project
Waking up with a fish pond and rice paddies outside your window, mountains in the distance and more than 50 children waiting for your attention – this is what volunteering in Thailand is all about! Volunteers in this project stay on the project site five days a week, enjoying well-earned rest and relaxation over the weekend in Chiang Mai city.
English Education Volunteer Project
English Education Volunteer Project
A lot of Thai students grow up thinking that their English ability is next to nil. But sometimes, a few confidence-boosting classes with a native speaker – where they're understanding more than they expected to and communicating right back – is all it takes to change their minds. As a volunteer English teacher, you become a catalyst for student development.
Volunteer Building and Gardening for Single Mothers
Single Mothers' Home Building and Gardening Team
The single mothers' home is in need of more than childcare, and many of our volunteers contribute to the cause by building infrastructure on the compound. Whether its gardening, painting or teaching a special class, your efforts will directly benefit these disadvantaged women and their children.
Volunteer at an Elephant Camp
Bathing elephants in the river, cutting corn for their dinner and working side-by-side with ethnic minority families in Northern Thailand – it hardly even feels like work! With onsite rustic accommodation near the river, it's easy to understand why working at the elephant camp is one of the most popular ways of volunteering in Thailand.
Volunteer Teaching English to Novice Buddhist Monks
Teach English to Buddhist Monks
Of all the opportunities to volunteer in Thailand, teaching English to Buddhist monks commands the strongest following. Each of our volunteers is assigned to a specific Buddhist temple in Chiang Mai, Thailand, where they instruct novice monks in daily English lessons. This sort of candid, behind-the-scenes access to a working Buddhist monastery is difficult to match.
Volunteer at an International University for Monks
Teacher's Assistant at International University for Monks
Buddhism has always been a catalyst for higher education across Asia and Thailand, and in this assignment, volunteers step into an authentic university setting. The student body is budding Buddhist monks from across Thailand and Asia, fostering a dynamic international atmosphere. This is an ideal opportunity for candidates with an interest in the higher teachings of Buddhism.
Volunteer at a Children's Home
A small orphanage for underprivledged children in Northern Thailand. As with orphanages across the world, finding the funds and staff to meet demands can be a challenge. Our volunteers donate their time and energy in everything from childcare to groundskeeping.
Internship Projects
Friends for Asia currently offers two resume building internships.
Intern at a Magazine
Magazine and Multimedia Internship
Interning in Thailand is a relatively unexplored concept, but the opportunities are ripe. Through this assignment, you'll learn from industry leaders at an English-language entertainment magazine. This publication is well-known and widely circulated in Northern Thailand, so you'll gleaning on-the-job experience from local leaders in publication.
Medical Internship
Shadow full-time doctors conducting surgeries in the OR and making rounds in one of Chiang Mai's private hospitals. Thailand is the preeminent medical tourism destination, and for our interns more relevant experience than just about any internship in the West could offer. Return to medical school with a clear-cut advantage over your peers.
Volunteer Throughout Asia
Friends for Asia now offers volunteer and internship projects throughout Asia, including Vietnam, Nepal and Bali, Indonesia.
Volunteer Stories
Katia Grant, New York, USA - Caregiving at Single Mother's Home, July, 2009
"I had a great time volunteering at the Single Mother's Home. The children were always so happy and excited to do basically anything with the volunteers. Walking into the daycare and having a bunch of children run up to you because they are so excited to see you is definitely a great feeling!
Dr.Sophia Hurd, California, USA - Medical Intern - December, 2009
"What an AMAZING experience! I did the medical internship and learned so much about Thai medicine and how Pediatrics is practiced in Thailand. The doctors were so welcoming and willing to share their medical knowledge. The diseases were interesting, the hospital was great, and Friends for Asia made this medical experience one of the smoothest I've ever gone on. I would recommend this program to anyone and everyone."
Ben Randall, California, USA - Teaching Monks February, 2010
"Teaching Monks for my short time was a good opportunity to look into the lifestyle of teaching, as it is something I plan on doing after I graduate from college. If teaching is not your profession, this is still a positive experience to do something out of the norm and something you can look back on later in life and appreciate the small difference you might have made in someone's life."
Read more Volunteer Stories
Recent Updates